At the "Creating a Global Society Based on Sustainability" event, the Senior students at Fujimigaoka High School hosted presentations about local and global issues that are in line with the United Nation's Sustainable Development Goals (SDGs). As the world has become more globalized over the past few decades, we have seen new opportunities and problems appear in society. To gain an international understanding, the students visited Taiwan, Singapore, and Malaysia where they carried out surveys regarding issues, such as, disaster prevention in Tokyo, education in Japan, and artificial intelligence (AI).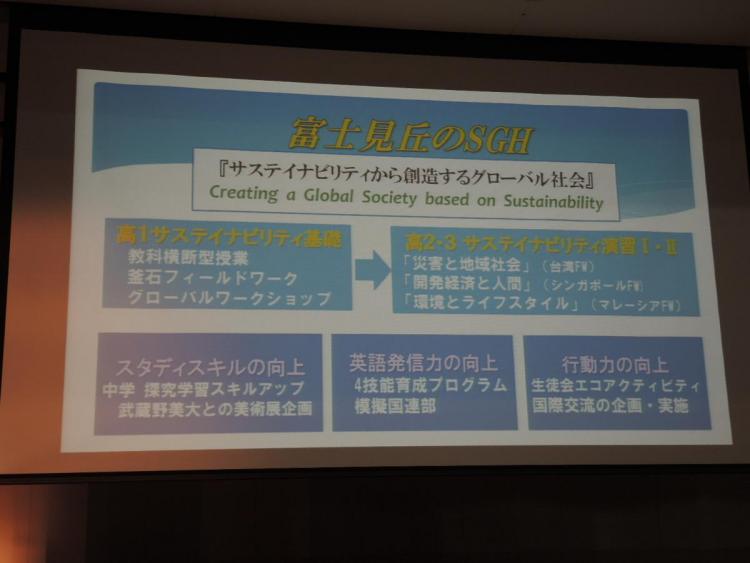 Disaster Prevention
The next Olympic Games is to be held in Tokyo next year. The students at Fujimigaoka are aware of the expected influx of visitors from overseas and it is good to see their enthusiasm to welcome people from other countries to Japan. Their first concern is health and safety. As Japan is prone to natural disasters, the students conducted a survey to find out how effective danger warning signs are. They found that Japanese people were unable to correctly identify warning signs such as tsunami so non-Japanese people are even less likely to know what to do in an emergency. The students came up with a solution. The solution was moving pictograms. This was a success as more people understood what the signs meant, which makes it safer for when they travel to Tokyo.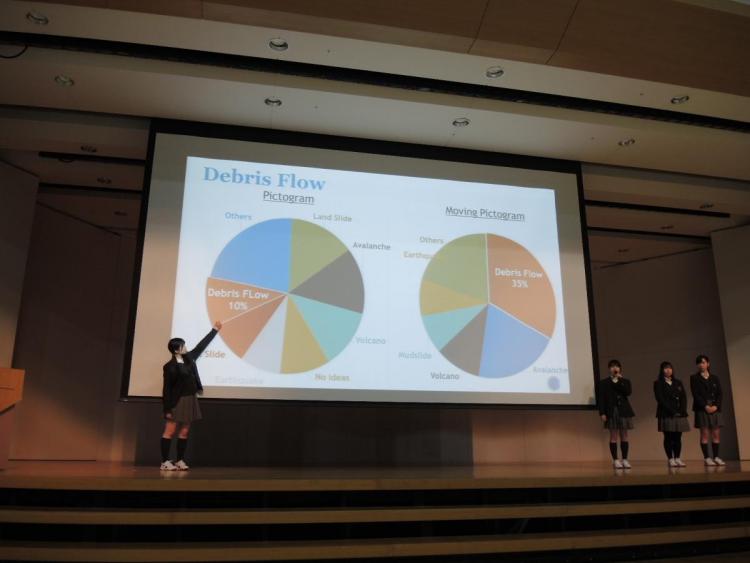 Education in Japan
The students interviewed other students in Japan and Singapore to compare the link between education and society. They concluded that individual competencies can be improved through compulsory fieldwork. By encouraging Japanese students to engage with foreigners, a new world of opportunities can be seen. Having knowledge of the English language is just one part of this complex process. The 2020 Tokyo Olympic Games will be beneficial for both Japanese residents and non-Japanese visitors as it is a good opportunity to share and learn about different cultures. This corresponds with GLICC's mission to create an innovative global community. By cooperating with others from all over the world, Japan can prepare itself for the future.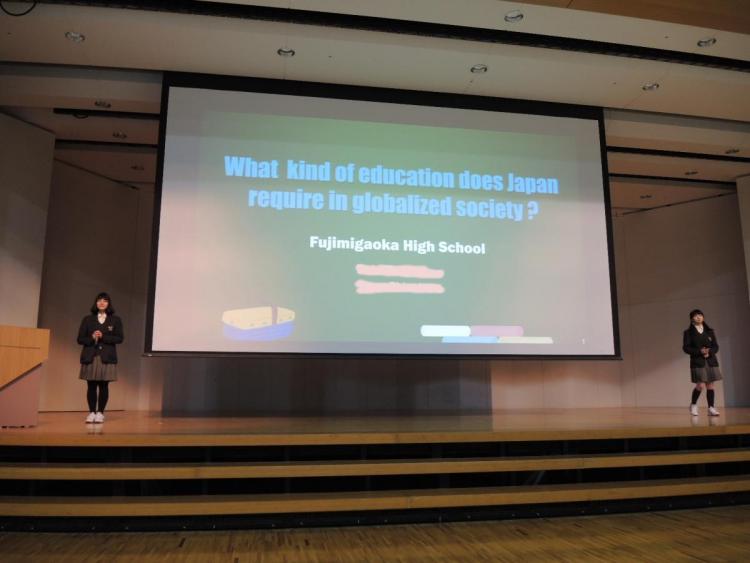 Artificial Intelligence (AI)
The students conducted surveys in Japan and Singapore to find out how people felt towards the development of AI with particular focus on self-driving cars. They found that people were in favor of AI. This will largely depend on the stakeholders involved. Will AI ever replicate human intelligence? If an accident occurs, who is held responsible? Will AI benefit everyone?
These are just a few of the many questions surrounding the sustainable development of AI. It is evident that increased awareness regarding AI is necessary in Japan and the rest of the world. To say that the advantages of AI outweigh the disadvantages may be leading to a misinformed judgement. There will no doubt be both winners and losers. Around 40% of jobs are expected to be replaced by AI, with those that drive for a living to bear the consequences soonest. On the other hand, AI is increasing efficiency in many industries and creating new opportunities that weren't available previously. As with anything, health and safety issues must take priority and new problems appear with each breakthrough. In 2018, a fatal accident occurred involving a self-driving car in America momentarily suspended the development of self-driving cars and questioned the extent to which we are willing to see this through.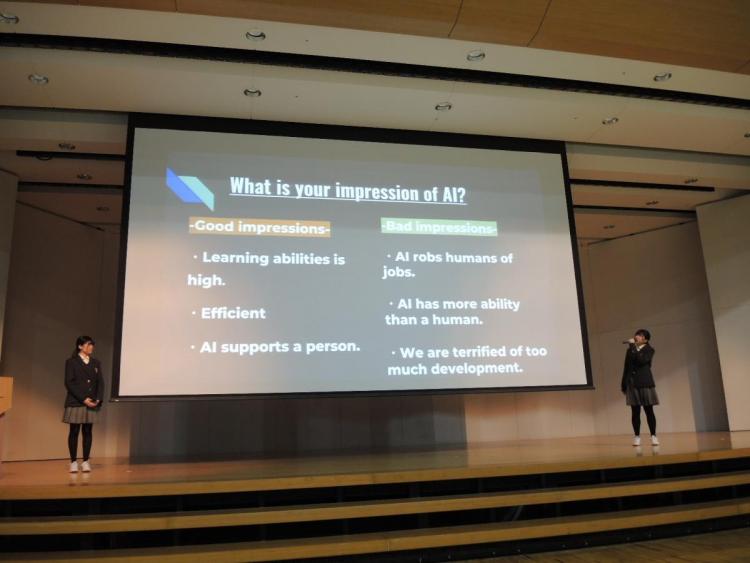 Sustainable Development Goals (SDGs)
Three years ago, the students created a United Nations club within the School. There are now 30 students who meet regularly to discuss the SDGs. During these meetings, they are able to address the most important global issues, stay updated and gain an international perspective, all whilst using their creative thinking ability. Group discussions and decision-making will enhance the community spirit within the School and give the students a chance to express their opinions whilst being challenged by their peers.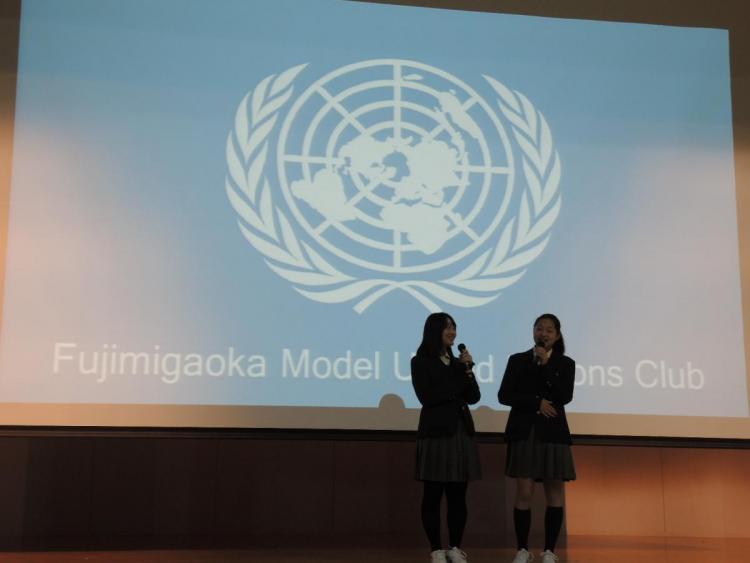 The students' presentations offered a good insight into various global issues. It would be interesting to see the results of a larger sample size and perhaps other parameters taken into consideration. The efforts that the students at Fujimigaoka School are making now will no doubt have a positive impact in the future. As the world continues to globalize, we need to find a way to ensure this is achieved sustainably. Also, as AI will inevitably take over sooner or later, it is our responsibility to adapt to the changes by building a harmonious society for the sake of future generations.